2016.01.17 Strength Coach News
Ben Hilgart named Associate Athletics Director for S&C at Virginia Tech
Blacksburg, Virginia — Ben Hilgart was hired recently as Associate Athletics Director for Strength and Conditioning at Virginia Tech. Hilgart will oversee performance training for varsity sports at and will work with head coach Justin Fuente for the football program.
Prior to coming to Virginia Tech Hilgar has spent the past 14 years working in strength and conditioning. Hilgart spent the last four seasons at New Mexico, with the last two seasons as the Director of Athletic Performance. Before working at New Mexico, Hilgart spent seven years at Arizona State, including four seasons as the Head Sports Performance Coach. Before that, Hilgart spent two seasons at the Ohio State University. During graduate school Hilgart spent two years at UTEP as the graduate assistant strength and conditioning coach. He was also the head strength coach and assistant defensive line coach at his alma mater, Western Illinois, in 2001.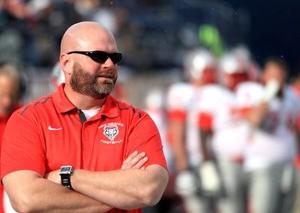 Links:
Virginia Tech
---
Chase Sanders New S&C Head Coach at Cal Poly Pomona
Pomona, California — "It is an awesome opportunity and something that I've always really wanted to do," said Sanders. "It's a dream job.  It's one of those fields where you have to work your way up, [and] it's just awesome to have an opportunity after years of [paying my] dues."
Links:
Cal Poly Pomona
---
Lance Sewell Heading to Tennessee
Knoxville, Tennessee — Lance Sewell has been announced as the head strength and conditioning coach of the University of Tennessee baseball team. With more than 20 years of experience, Sewell joins Tennessee after spending 12 years as a strength and conditioning coach for the University of Texas. Prior to Texas, Sewell was head strength and conditioning coach for the University of Miami baseball team.
Links:
University of Tennessee
Highest Paid Strength & Conditioning Coaches
How to Become a Strength and Conditioning Coach

2016.01.17 Strength Coach News